Vegetarian baked fried rice
ABC Life / Hetty McKinnonPREP TIME0:15COOK TIME0:25SKILL LEVELLowSERVES4-6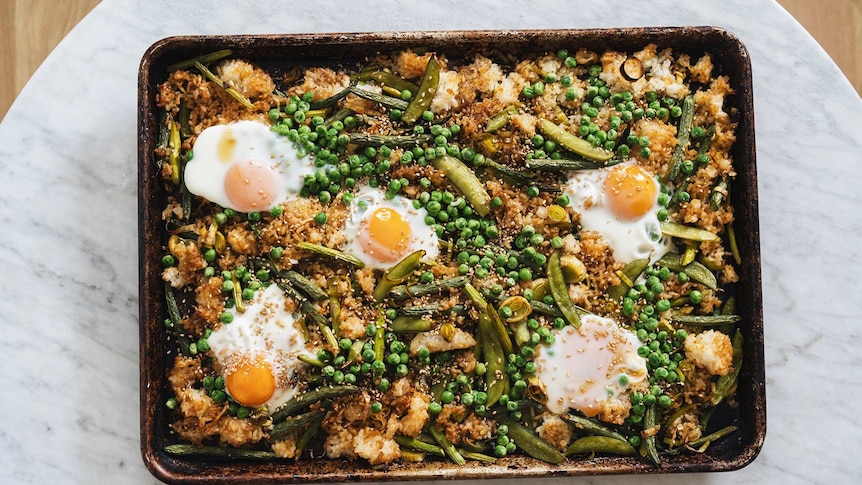 Share
Sometime last year, I started making fried rice on a baking tray.
And while a tray will never replace my wok, somehow this pared-back method of preparing fried rice became essential to my days in isolation, when cooking became both a welcome distraction and a daily challenge.
What I love about this recipe is that it's hands off. You mix cold rice with vegetables, add some seasoning and stick it into a blaring hot oven. From there, the oven does the work for you.
Baked at high heat, some of the rice crisps up, while other pieces remain soft, creating a pleasing melange of textures.
It's both magical and practical at the same time, and exactly the type of low impact-high intensity cooking we are all looking for nowadays.
While 'spring' is the theme of this fried rice, this recipe is specifically designed so you can use any vegetables you want, depending on what's in season, or what you have languishing in your vegetable crisper.https://www.youtube.com/embed/lzSST8NlkQg?feature=oembed&enablejsapi=1&origin=https%3A%2F%2Fwww.abc.net.auYOUTUBEHow to make fried rice in a baking tray
Tips:
The veg is flexible: The basic principle is to use vegetables that will roast and become tender in about 20 minutes. I have made this recipe many times and always with different veggies — brussels sprouts, broccoli, mushrooms, carrot, and corn are all excellent veg to use. Aim for about 500g of vegetables.
More ways to add heat: I often add kimchi to this mix but here I simply use sriracha, which adds an additional layer of spicy flavour.
Bonus substitutions: In place of the leek, you could use onion, French shallot or a couple cloves of garlic. Use brown rice if you have it. The eggs are optional, of course, but add a lovely heartiness to this meal.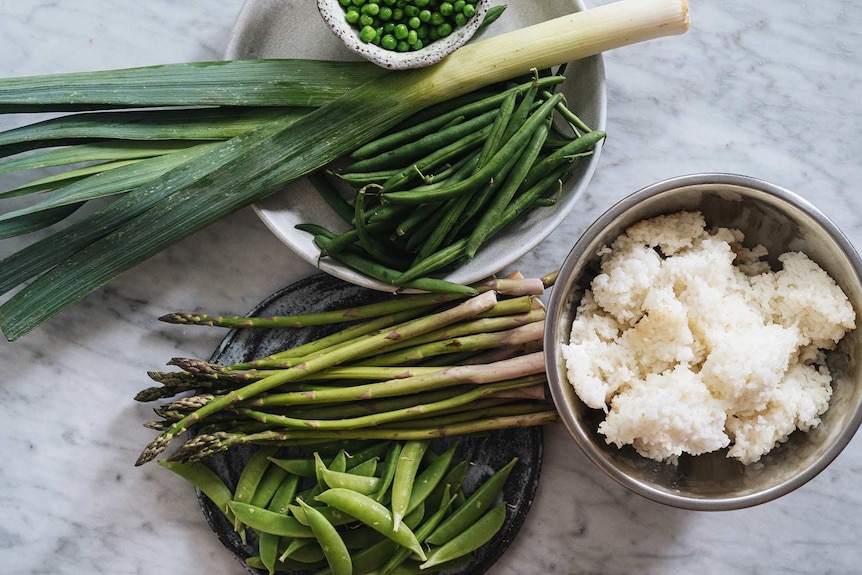 Every month, we publish a new recipe from our New Australian Classics series. Hetty McKinnon is a food writer and cookbook author with a passion for vegetables. She's the author of three cookbooks, Community, Neighbourhood, and Family. Originally from Sydney, Hetty is currently living with her family in Brooklyn, New York.