​Never Split The Difference by Chris Voss​
This is THE book on communication and especially negotiation. If you want to strike better deals in your life, whether it's with your boss, your partner, your kids, your customers, or your investors, this book is a MUST.
Chris is a former hostage negotiator with decades of experience. Using scenarios from some of the highest-stakes environments you can imagine, he'll teach you how to build leverage in any negotiation and walk away with the exact result you want.
If you want to get better at negotiating, please watch this video.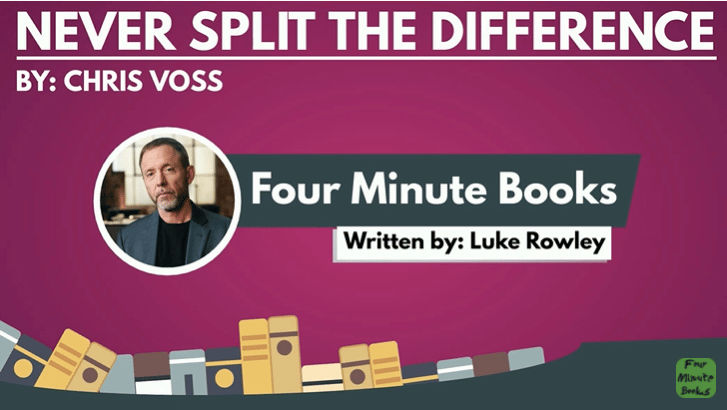 ​
---
​The Mom Test by Rob Fitzpatrick​
1-Sentence-Summary: The Mom Test talks about ways to tell if your business idea is great or terrible by assessing the opinions of your friends, family, and investors accordingly, and not believing everything they say just to make you feel good.
Top 3 Lessons:
Spot real from fake compliments and aim to get your investors committed.
Your audience has the answers you need, not the ones you want, but they'll prove to be extremely valuable insights.
Investors prefer saving time with casual meet-ups in coffee lounges or other relaxed environments.
If you want to prepare how to pitch your business ideas, this book is for you.
---
​The Complete Ketogenic Diet for Beginners by Amy Ramos​
1-Sentence-Summary: The Complete Ketogenic Diet for Beginners explores the principles of a ketogenic diet, which implies eating little to no carbs, and introducing multiple sources of fat in your daily meals to boost your metabolism and lose unwanted weight.
Top 3 Lessons:
Prioritizing fats over carbs allows your body to enter ketosis.
The first days of a ketogenic diet will bring the "keto flu" along, but that should wear off in a few weeks.
Keeping yourself on track when starting a new diet implies other lifestyle and social changes..
If you want to see if the new keto diet would be good for you, this book is for you.
---
​Lead Yourself First ​by Sir John Hargrave​
1-Sentence-Summary: Lead Yourself First is a book on leadership that highlights the importance of solitude, putting order in your mind and growing self-awareness before you lead others, and how to do it by setting strong goals which align with those around you, making them want to follow your lead and take initiative on those defined objectives.
Top 3 Lessons:
Great leaders use solitude to deal with four aspects of their life.
FOMO is a dangerous trap for anyone who is serious about their responsibilities.
Solitude can help you alleviate negative emotions and triggers.
If you want to hone your ability to lead, this book is for you.