Roam to do your research, find sources, connect them together, and write your papers effortlessly.
You'll even get 50% off for being a Four Minute Books reader. You can read the review here.
Alright, let's see what books we've got in store for you this week!
---
​The Energy Bus by Jon Gordon​
This international bestseller shares a fantastic fable about what it means to live a life full of energy, find joy in every day, and have fun at work.
The story is that an employee of a light bulb company must take the bus for two weeks because his car broke down. The bus driver, Joy, shares 10 rules with him over the course of those two weeks – and they change his life forever.
I so recommend watching this video. You'll love it. Enjoy!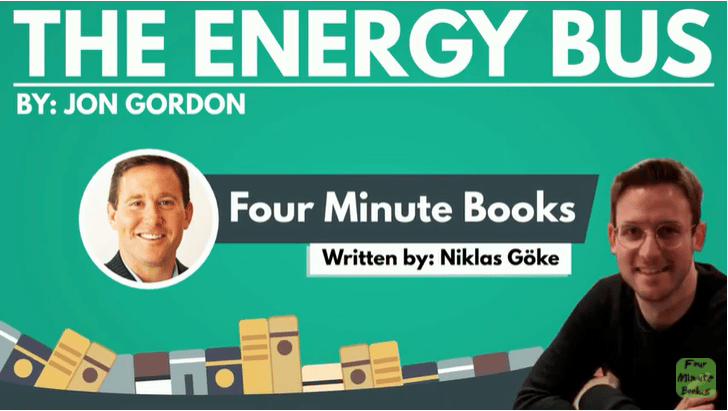 ​
---
​Invent & Wander by Jeff Bezos​
1-Sentence-Summary: Invent & Wander is a collection of Jeff Bezos's writings and letters to its shareholders, in which he expresses his philosophy of life and his way of doing business, which ultimately led him to know tremendous success and write history with his two companies: Amazon and Blue Origin.
Top 3 Lessons:
Cross-disciplinary education and the Day 1 mentality are the key to one's success.
A successful company targets all efforts towards its customers and pays close attention to its employees.
Fail productively and think ahead for a three-years-frame.
If you want to develop a productive mindset, this book is for you.
---
​Words That Work by Frank Luntz​
1-Sentence-Summary: Words That Work outlines the importance of using the right words and the appropriate body language in a given situation to make yourself understood properly and get the most out of the dialogue, while also teaching you some tips-and-tricks on how to win arguments, tame conflicts, and get your point across using a wise selection of words.
Top 3 Lessons:
Effective communication is tailored to the audience and uses organized and clear phrases.
A successful communicator addresses people's feelings and conveys words that carry emotions.
Addressing your audience right will help you both in life-changing situations and on a day-to-day basis.
If you want to work on your communication skills, this book is for you.
---
​Everyday Zen ​by Charlotte Joko Beck​
1-Sentence-Summary: Everyday Zen delves into the philosophy of a meaningful life and teaches you how to reinvent yourself by accepting the grand wisdom and energy of the universe and learning to sit still, have more compassion, love more, and find beauty in your life.
Top 3 Lessons:
To become Zen, you must learn to love and accept your fate.
Learn the difference between decisions and problems to alleviate negative emotions in your life.
Death is crucial to life and acknowledging that can bring you a lot of peace.
If you want to start living a life of Zen, this book is for you.