Let's get right into it!
---
​The Five Dysfunctions of a Team by Patrick Lencioni​
"Team work makes the dream work," they say, but working together with people can be the hardest kind of work! When many people try to co-organize, things often go wrong.
This book will show you how to work well together with others. You'll discover the 5 most common obstacles team face in being efficient and learn how to overcome them.
If you want to kick ass while working with others, this video is for you.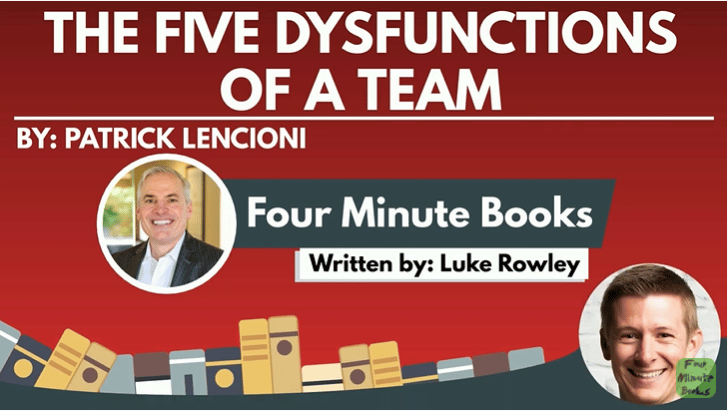 ​
---
​Courage Is Calling by Ryan Holiday​
1-Sentence-Summary: Courage Is Calling explores the idea of bravery and what it takes to act with courage in any life situation, by analyzing leading figures in history, great models from both ancient and contemporary times, and drawing conclusions on what makes a courageous person that way and how to attain it step-by-step.
Top 3 Lessons:
To be a brave man implies stepping forward in the face of danger, instead of stepping back.
Fear is amplified by vagueness, so fight it with ration and a clear mind.
Courage is like a virtue – it's gained by repeatedly doing small acts of bravery.
If you want to be more daring and confident, this book is for you.
---
1-Sentence-Summary: Indistractable explores a universal topic of interest: how our modern gadgets and technology distract us from work and cause real concentration issues, impacting our performance and even the quality of our lives, and how we can address the root cause of the problem to eradicate it.
Top 3 Lessons:
Define your internal triggers and master controlling them to tame distraction.
To achieve your goals, you must plan your week ahead and include plenty of quality time with those around you and yourself.
Hack the distractions by using self-made pacts.
If you want to stop getting distracted by technology, this book is for you.
---
​Your Erroneous Zones by Wayne W. Dyer​
1-Sentence-Summary:Your Erroneous Zones offers a hands-on guide on how to escape negative thinking, falling into your own self-destructive patterns, take charge of your thoughts and implicitly, your emotions, and how to build a better version of yourself starting with putting yourself first and not caring about what others may think.
Top 3 Lessons:
Independence is golden – stay true to your opinion and beliefs no matter what others say.
Worrying alone won't help you much, but taking action will.
Guilt focuses on the past, but having faith that you'll do better projects you onto a better future.
If you want to let go of your toxic behaviors, this book is for you.
---
That's all for now. Have a great weekend!
Happy reading,
-Nik
PS: Right now, the easiest, fastest, #1 way you can support Four Minute Books is to buy a copy of our new book, The 4 Minute Millionaire.
It'll help you rethink money, invest wisely, and grow wealthy in just 4 minutes a day – and it only costs $4 (ebook).
The ebook (Kindle), paperback, and hardcover are available on Amazon. If Amazon doesn't work where you live, you can buy the ebook version (all formats, including PDF) directly from us. You'll find all versions here.
Thank you for your support!
Want summaries every Monday, Wednesday, and Friday, right in your inbox? Join our real-time feed.