Alright, let's see which bestsellers we've got to share with you this week!
---
​Everything Is Figureoutable by Marie Forleo​
Marie Forleo is one of the most relentlessly positive people I know, and that alone makes watching her interviews and reading her work time well spent.
In this #1 New York Times Bestseller, Forleo will teach you how to retrain your brain to think more creatively and stay optimistic in the face of even the biggest setbacks.
Remember: No matter what happens, everything is "figureoutable." To watch the video and feel inspired, click below!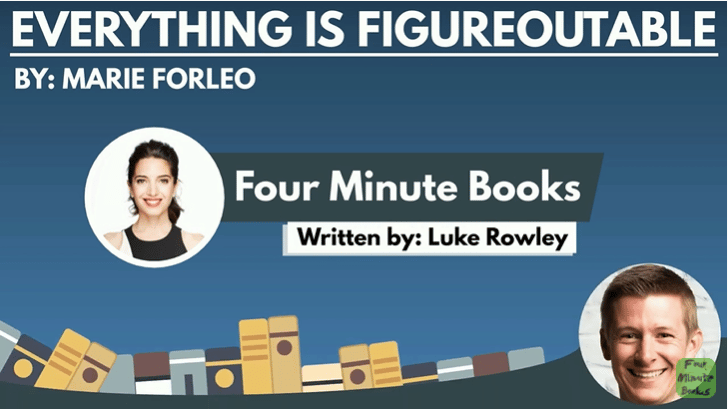 ​
---
1-Sentence-Summary: Noise delves into the concept of randomness and talks about how we as humans make decisions that prove to be life-changing, without putting the necessary thought into it, and how we can strengthen our thinking processes.
Top 3 Lessons:
To err is human, therefore we have a natural inclination toward certain biases.
Humans make wrong predictions almost all the time.
The "wisdom-of-crowds" is a real thing if the sample of people is appropriate for the situation.
If you want to fight your biases and make better judgments, this book is for you.
---
1-Sentence-Summary: Keep Going explores the concept of creativity and teaches its readers ways to nurture the mind when we're undergoing divergent thinking, how to come up with ideas and foster innovation in those moments when the mind starts producing ideas, and how to overcome difficulties in the creative process.
Top 3 Lessons:
Establish a daily routine by finding what works best for your creative self.
Creating a Bliss Station can help you prepare for work both mentally and physically.
Protect your creativity by staying organized, napping, and avoid following trends always.
If you want to improve your creativity, this book is for you.
---
​Healthy at 100 by John Robbins​
1-Sentence-Summary: Healthy at 100 addresses the importance of maintaining healthy habits such as exercising or simply keeping your body moving, practicing gratitude and avoiding stress by being kind and loving, and overall keeping yourself healthy in the long run by using the simplest yet the most effective practices that have passed the test of time.
Top 3 Lessons:
Your right and left leg are your two best doctors.
Ads are your worst enemy, so never believe what marketers are pushing down your throat.
Your life becomes better the moment you live your truth, love more, and treat your body right.
If you want to keep your body, mind, and spirit healthy, this book is for you.
---
Happy Easter! Enjoy our latest summaries and a quiet weekend off.
Happy reading,
-Nik
PS: Right now, the easiest, fastest, #1 way you can support Four Minute Books is to buy a copy of our new book, The 4 Minute Millionaire.
It'll help you rethink money, invest wisely, and grow wealthy in just 4 minutes a day – and it only costs $4 (ebook).
The ebook (Kindle), paperback, and hardcover are available on Amazon. If Amazon doesn't work where you live, you can buy the ebook version (all formats, including PDF) directly from us. You'll find all versions here.
Thank you for your support!
Want summaries every Monday, Wednesday, and Friday, right in your inbox? Join our real-time feed.