Alright, let's see what other titles we've got this week!
---
​Atlas Of The Heart by Brene Brown​
Brené Brown barely needs an introduction. The researcher and author of several multi-million copy bestsellers about courage, fear, shame, and vulnerability has released her coolest book yet: A map of the emotions inside the human heart.
If you want to explore the plethora of places we go when we feel happy, sad, angry, lonely, disappointed, jealous, tranquil, content, or any of a myriad of other feelings we might experience, watch this video!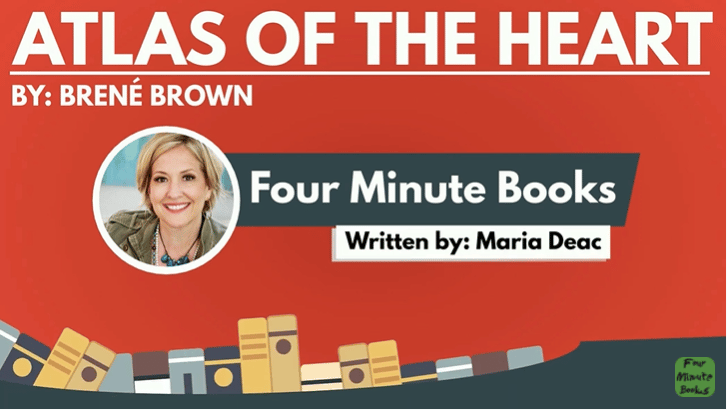 ​
---
1-Sentence-Summary: Chatter aims to help its readers make sense of the inner mind chatter that seems to be taking over our minds at times, and help you quiet the negative thoughts, stop the overthinking that often leads to feelings of anxiety and depression, and learn useful practices to help yourself alleviate negative emotions.
Top 3 Lessons:
Our mind can only process so much information at a time, so make sure you feed it the right amount.
Challenging times blur our thinking, so the solution is to zoom out and get a fresh perspective.
Talking about what hurts us isn't enough to move past trauma, as we need to meet our cognitive needs too.
If you want to stop overthinking, this book is for you.
---
​Show Your Work! by Austin Kleon​
1-Sentence-Summary: Show Your Work! talks about the importance of being discoverable, showcasing your work like a professional, and networking properly, so that people remember your name and your work, instead of just shaking hands with you for a brief moment.
Top 3 Lessons:
Creativity is a shared process, so make sure to establish connections and keep track of your work.
Nowadays, being a clever professional and showcasing your work implies building a strong online presence.
People who think alike are more prone to help each other out, so build a platform to attract those people to you.
If you want to learn how to network the right way, this book is for you.
---
​Fat For Fuel by Joseph Mercola​
1-Sentence-Summary: Fat For Fuel explores the "Mitochondrial Metabolic Therapy" program of the Mercola.com website, which offers a revolutionary approach to diets by promoting a high-fat, adequate-protein, and low-carb diet, all while highlighting the importance of fasting and the role of nutrition in fighting diseases.
Top 3 Lessons:
Maintaining your mitochondria at optimum levels determines your body's performance, health, and overall well-being.
We should aim for adequate-protein levels and a high-fat intake in our diets if we want to live longer and healthier.
Restrict your eating window by fasting right, and definitely stop eating at least three hours before sleep.
If you want to try out a new effective diet, this book is for you.
---
Enjoy our latest summaries and have a great weekend!