Alright, let's get into this week's titles! I'm especially excited about Ikigai and Poor Charlie's Almanack. Here we go!
---
​Ikigai by Hector Garcia Puigcerver and Francesc Miralles​
To find out what lets people live long AND happy lives, the authors of this book interviewed residents of a Japanese village in Okinawa – the place with the highest density of at-least-100-year-olds in the world!
Their secret? Ikigai – a reason to wake up in the morning. The authors report how these people eat, move, work, collaborate, and more – including how they find extreme purpose to keep on living in fulfilling ways.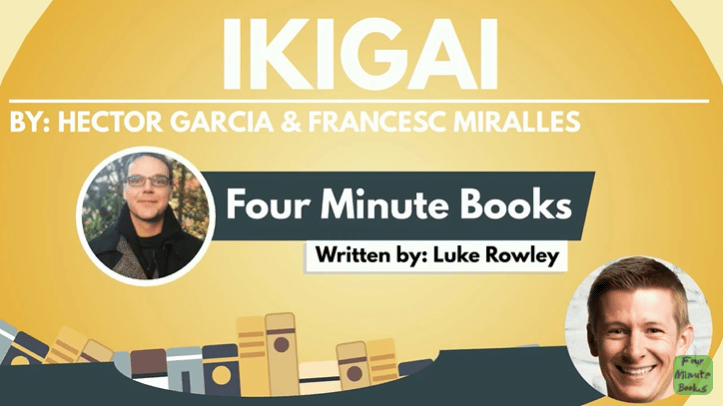 ​
---
​Poor Charlie's Almanack by Peter Kaufman​
1-Sentence-Summary: Poor Charlie's Almanack explores the life of the famous investor Charlie Munger, the right hand of Warren Buffett, and teaches its readers how his inspirational take on life helped him achieve a fortune and still have time and money to dedicate towards philanthropic causes.
Top 3 Lessons:
A successful career is paved with many challenges and blessings in disguise.
Berkshire Hathaway was built on a strong respect for investors worldwide.
To err is human, but to learn from your mistakes is admirable.
If you want to improve your thinking while being inspired from a world-class investor, this book is for you.
---
​The Comfort Crisis by Michael Easter​
1-Sentence-Summary: The Comfort Crisis addresses people who live a stressful life and talks about being comfortable with discomfort and reclaiming a happy, healthy mindset by implementing a few odd but highly effective practices in their daily lives.
Top 3 Lessons:
Create your own rites of passage to toughen up your body and mind.
Combat loneliness by staying alone in nature for a while.
Life is better when you don't depend on things for your happiness but live simply instead.
If you want to change your mindset around stress and be happier, this book is for you.
---
​The Shallows by Nicholas Carr​
1-Sentence-Summary: The Shallows explores the effects of the internet on the human brain, which aren't entirely positive, as our constant exposure to the online environment through digital devices strips our ability to target our focus and stay concentrated, all while modifying our brain neurologically and anatomically.
Top 3 Lessons:
The Internet is altering our brain's ability to stay focused.
The Internet makes us process vast amounts of information, which causes burnout.
Allow yourself time away from the Internet by spending time in nature.
If you want to know how the internet affects your brain, this book is for you.
---
That's all for now! Have a fun weekend!
Happy reading,
-Nik
PS: Right now, the easiest, fastest, #1 way you can support Four Minute Books is to buy a copy of our new book, The 4 Minute Millionaire.
It'll help you rethink money, invest wisely, and grow wealthy in just 4 minutes a day – and it only costs $4 (ebook).
The ebook (Kindle), paperback, and hardcover are available on Amazon. If Amazon doesn't work where you live, you can buy the ebook version (all formats, including PDF) directly from us. You'll find all versions here.
Thank you for your support!