Heyo! Luke here, bringing you our newest summaries!
This week I started re-listening to one of my favorite personal finance books of all time. I've listened to it over a dozen times because it always gets me in the right mindset to do the work necessary to live financially free.
It's got me thinking about how everything we read, even on social media and the internet in general, affects how we think. And how we think determines what we can achieve. If we read positive, encouraging content, then we'll feel empowered to do what's needed to reach our goals.
So if you keep reading the right books, even re-reading them, it'll keep you in the right thinking patterns that will lead you to accomplish anything you can imagine!
And on that note, let's get into the books! Oh and don't forget to enter our giveaway to win a copy of Atomic Habits if you haven't yet!
---
The Four Agreements by Don Miguel Ruiz
Mexican surgeon and author Don Miguel Ruiz, who turned from science to spirituality after a near-fatal car accident, knows all about an ancient Toltec way of thinking that can change your life.
His 1997 book The Four Agreements spent eight years on the New York Times bestseller list, selling over six million copies and spreading these four guiding principles to live by:
1. Be impeccable with your word.
2. Don't take anything personally.
3. Don't make assumptions.
4. Always do your best.

Click on the image below right now to watch our animated summary of the book to learn how these ideas can improve your life!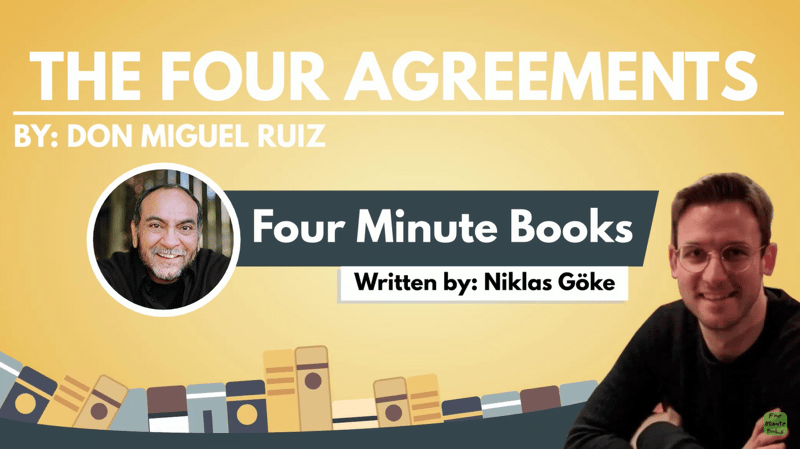 ---
The Kindness Method by Shahroo Izadi
1-Sentence-Summary: The Kindness Method by Shahroo Izadi teaches how self-compassion and understanding make forming habits easier than being hard on yourself, using the personal experiences of the author and what she's learned as an addiction recovery therapist to show how self-esteem is the true key to behavior change.
Top 3 Lessons:
Self-compassion and maintaining a judgment-free zone are vital for lasting change.
Look at what has worked for you in the past and learn from it.
Make sure your plan is realistic and incremental.
If you want to form good habits without being hard on yourself, this book is for you.
---
How Democracies Die by Steven Levitsky and Daniel Ziblatt
1-Sentence-Summary: How Democracies Die explores the foundational ideas of democracy by looking at historical events, especially in Latin America, that show how democracies have failed, whether it can happen again, and how to protect democracy from threats like mutual toleration, inequality, and political parties.
Top 3 Lessons:
A democracy needs solid gatekeepers to protect it.
With the arrival of Donald Trump in the political arena, the future of our democracy depends on our leadership.
We can resist authoritarianism by holding fast to democratic norms.
If you want to learn more about democracies and how to sustain them, this book is for you.
---
Now, Discover Your Strengths by Marcus Buckingham and Donald O. Clifton
1-Sentence-Summary: Now, Discover Your Strengths shows you how to find your top five strengths by outlining what strengths are, how you get them, why they're important to reaching your full potential, and how to discover your own through analyzing the times when your behavior is the most natural or instinctive and why.
Top 3 Lessons:
When we focus on our weaknesses, we are missing out on taking advantage of our strengths.
You can combine natural talent with learned skills to create a new strength.
You can discover your talents and the talents of your employees and use these to find real success.
If you want to identify your strengths and how to improve them, this book is for you.
---
That'll do it for now, have a great week!
Happy reading,
-Luke
---
PS: The best way to support Four Minute Books is to get our lifetime deal.
For $40, you'll get early access to all our new titles, 600+ audios to download and keep forever, our entire, 900+ summaries catalog in PDF format, bonus guides, your own customizable library, and much more.
Thank you for supporting Four Minute Books!
PPS: The easiest way to support Four Minute Books is to try Blinkist risk-free for 7 days.
---
Want summaries every Monday, Wednesday, and Friday, right in your inbox? Join our real-time feed.