Hiya, Luke here with a new batch of summaries for you!
But first, I just wanted to quickly thank you for being here and supporting us. It means the world to us and we hope that the books we share will continue to make a positive impact in your life!
Now let's check out this week's summaries!
---
The Automatic Millionaire by David Bach
When David Bach was just seven years old, his grandma taught him a life-changing personal finance lesson on a trip to McDonald's.
Once they sat down and started eating, she told him there are three types of people in the world: those who eat at McDonald's, those who work at McDonald's, and those who invest in McDonald's. Then, she helped him buy his first share of McDonald's stock and taught him why being an investor is the best way to succeed in life.
He took her advice to heart and went on to become one of the most successful and well-known investors in the world.
If you'd like to learn David's best tips for setting up your finances so that they run towards your goals on auto-pilot, then click on the image below to watch our video summary of The Automatic Millionaire right now!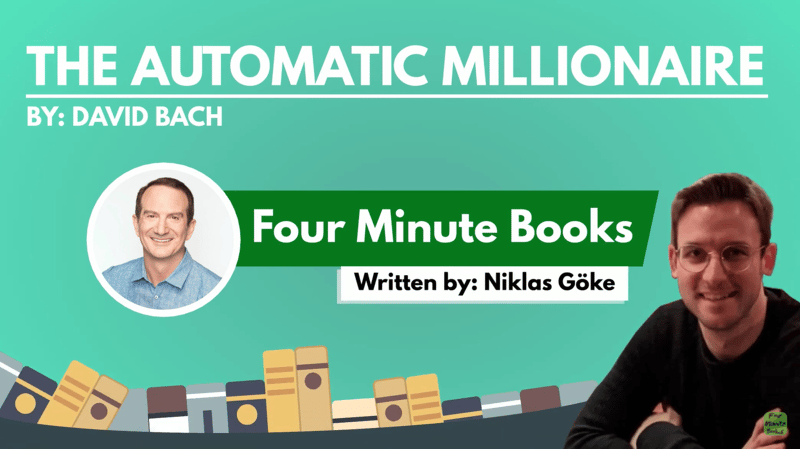 ---
---
The Social Contract by Jean-Jacques Rousseau
1-Sentence-Summary: The Social Contract is a political piece of writing that serves as a pylon for the democracies of today, as it theorizes the elements of a free state where people agree to coexist with each other under the rules of a common body that represents the general will.
Top 3 Lessons:
A state becomes legitimate only if its citizens accept to live in it.
The general will of the people should be the law of any legitimate state.
People should meet often to express their will and communicate more for better governance.
If you want to know how a free state should function, this book is for you.
---
How To Do The Work by Nicole LePera
1-Sentence-Summary: How To Do The Work is a go-to guide that teaches us how to establish a mind-body-spirit connection and create better connections with the people around us by exploring how these aspects are interconnected and influenced by the way we eat, think, and feel.
Top 3 Lessons:
Childhood trauma is blocking our path to healing.
Survival systems are unhealthy and we have to let them go.
Create boundaries to achieve healthy relationships.
If you want to harmonize your mind, body, and spirit, this book is for you.
---
Long Life Learning by Michelle R. Weise
1-Sentence-Summary: Long Life Learning questions the current educational systems worldwide in relation to an increasing trend in job automation, growing life expectancy, and a devaluation in higher degrees, all with a strong focus on the future of work and urgency to adapt to it.
Top 3 Lessons:
The primary focus of an employer should be the talents and skills of his employees.
Developing new skills requires a "learning by doing" approach and targeted education programs.
A fair and honest hiring process is favorable for both employers and employees.
If you want to know what the future of work will look like, this book is for you.
---
That'll do it for this week. Have a great weekend!
Happy reading,
-Luke
---
PS: The best way to support Four Minute Books is to get our lifetime deal.
For $40, you'll get early access to all our new titles, 600+ audios to download and keep forever, our entire, 900+ summaries catalog in PDF format, bonus guides, your own customizable library, and much more.
Thank you for supporting Four Minute Books!
PPS: The easiest way to support Four Minute Books is to try Blinkist risk-free for 7 days.
---