Hello hello, Luke here with a fresh batch of book summaries for you!
First, we want to say a huge thank you to all those who have helped us make the final push to get monetized on YouTube. We're getting so close to our goal and only have a couple hundred watch ours left to get there!
"But," you might be thinking, "why does that matter to me?"
Well, our main goal is to keep making more summaries for you and with your help, our YouTube channel is going to help us do that.
You might not think your individual engagement matters much, but it really makes a difference. Every like, share, or second watched counts.
If you've enjoyed even just one of our videos, please subscribe, leave a like, or watch one more. It makes more of a difference than you think.
And now on to this week's summaries!
---
Einstein: His Life And Universe by Walter Isaacson
Do you know what Einstein is actually famous for? If you had to explain it to a random person on the street, could you do it? What about his personality and character?
We may think we know this world-renowned man but most of us just have a surface-level understanding of who he was and what he did for the world.
This is where Walter Isaacson's book Einstein: His Life and Universe comes in to fill in the (many) gaps. If you want to discover what made Einstein so smart, click on the image below to watch our video summary of his biography now!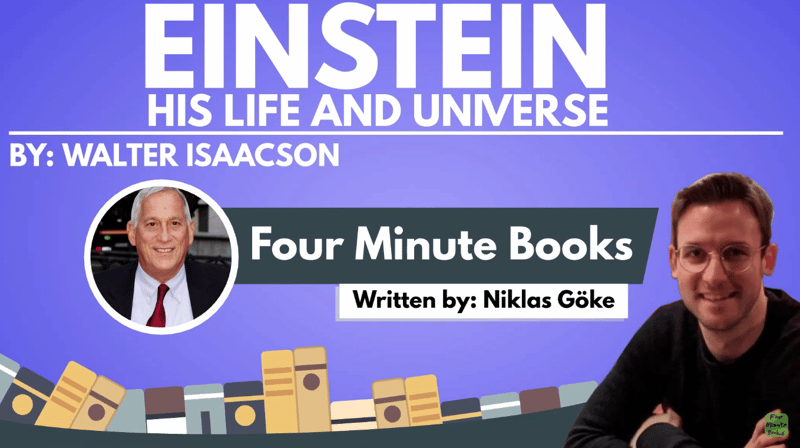 ---
The Hidden Habits of Genius by Craig Wright
1-Sentence-Summary: The Hidden Habits of Genius looks at how geniuses separate themselves from the rest by having in common a distinctive set of characteristics and habits that form a unique way of thinking and cultivating brilliance.
Top 3 Lessons:
First, geniuses have a strong sense of curiosity for the world.
Being completely focused on your work allows you to uncover brilliant discoveries.
Second, ditch traditional working frameworks from time to time and think outside the box.
If you want to know more about the distinctive characteristics of geniuses and how you can maybe become one, this book is for you.
---
The Genius of Dogs by Brian Hare
1-Sentence-Summary: The Genius of Dogs explores the curious mind of man's best friend in relation to human intelligence, as dogs and humans are connected and have many similarities that make the relationship between them so strong and unique.
Top 3 Lessons:
Like infants, dogs watch us and learn from us.
Humans and dogs can understand each other very well, up to a certain point.
Training a dog implies cognitive encounters.
If you are a dog lover and curious about their nature, this book is for you.
---
Keep Showing Up by Karen Ehman
1-Sentence-Summary: Keep Showing Up explores the struggles that married couples face on a daily basis, from falling into a routine to fighting over their children, and how to overcome them by being grateful, positive and re-establishing a connection with God.
Top 3 Lessons:
First, love goes through four different stages according to the New Testament.
Love has different languages, and we must learn how to understand each one and appreciate them.
Second, seek guidance from God through prayers if you need to overcome turbulent times.
If you want to better understand what makes marriage so hard, and how to get through those difficulties, this book is for you.
---
This is all the summaries we've got for now, see you next week!
Happy reading,
-Luke
---
PS: The best way to support Four Minute Books is to get our lifetime deal.
For $40, you'll get early access to all our new titles, 600+ audios to download and keep forever, our entire, 900+ summaries catalog in PDF format, bonus guides, your own customizable library, and much more.
Thank you for supporting Four Minute Books!
PPS: The easiest way to support Four Minute Books is to try Blinkist risk-free for 7 days.
---
Want summaries every Monday, Wednesday, and Friday, right in your inbox? Join our real-time feed.