On that note, let's get into this week's books!
---
21 Lessons For The 21st Century by Yuval Noah Harari
Did you know that we're closer to 2050 than we are to 1990? Time seems to keep accelerating faster with how rapidly technology and other aspects of our world are advancing. How can you and I ever expect to keep up?
Not long ago people may have been able to predict the future fairly well. But with the way things are now, we don't stand a chance of doing that accurately anymore!
This is what Yuval Noah Harari wants to help you with and he wrote 21 Lessons for the 21st Century to do just that. Click the image below to check out our video summary and learn more right now!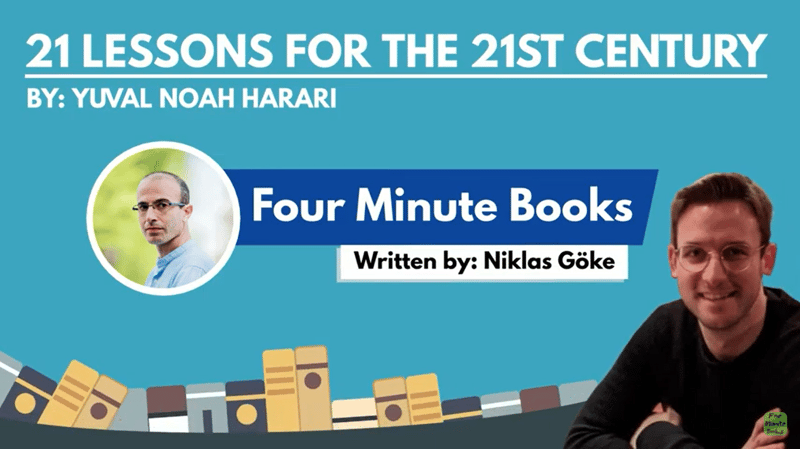 ---
Get Good With Money by Tiffany Aliche
1-Sentence-Summary: Get Good With Money is a guide to creating a healthy relationship with money and achieving financial security.
Top 3 Lessons:
Creating a budget sets the foundation of a good financial plan.
Being debt-free and having a great credit score helps achieve financial freedom.
Investing regularly will make money work for you.
If you want to secure your financial future, this book is for you.
---
1-Sentence-Summary: Fascism explores the nature behind this far-right authoritarian ideology, how it can rise to power in uncertain times and why it poses a serious threat even in our present days against our most democratic systems such as in the United States or Europe.
Top 3 Lessons:
Authoritarian parties often rise to power through democratic means.
We can always expect fascism to find its way back, history says.
Democracy is fragile, and we should defend it.
If you want to know how to spot the signs of fascism and how to fight against it, this book is for you.
---
Collaborative Intelligence by Dawna Markova
1-Sentence-Summary: Collaborative Intelligence helps you enhance your unique thinking traits and develop an individualized form of intelligence based on what works best for you, what your strengths are, and how you communicate with others.
Top 3 Lessons:
Attention can be divided into three categories, all of which are valuable.
Focus on your talents and mind patterns to improve communication.
Understanding different cognitive styles in your team can improve communication between members.
If you want to get better at thinking and communicating with others, this book is for you.
---
That's all for this week. Have a great weekend!
Happy reading,
-Luke
---
PS: The best way to support Four Minute Books is to get our lifetime deal.
For $40, you'll get early access to all our new titles, 600+ audios to download and keep forever, our entire, 900+ summaries catalog in PDF format, bonus guides, your own customizable library, and much more.
Thank you for supporting Four Minute Books!