Now let's explore this week's summaries!
---
If you've ever read anything by Brené Brown, you know how amazing she is. This week's video summary is one of her best books, Dare to Lead, which challenges conventional leadership ideas in the best possible ways.
Instead of telling you to be a stern, unfailing leader like traditional leadership advice, Brown teaches that being vulnerable, teachable, and humble is actually what brings the best results when leading a team.
Click the image below to check out our video summary of Dare to Lead and start learning more right now!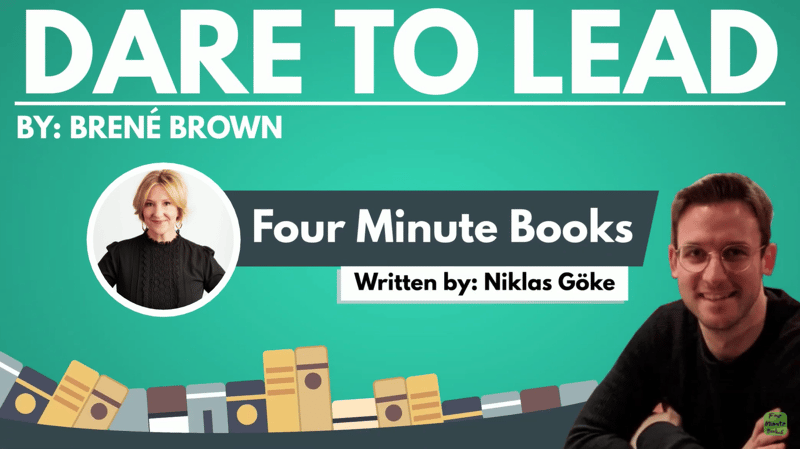 ---
1-Sentence-Summary: Kaizen is Japanese for "change for the better" or "continuous improvement," and is also the title of a book by Sarah Harvey which explains this business philosophy that has expanded into the personal growth arena to give a clear pathway to reaching your goals through consistent incremental changes.
Top 3 Lessons:
Kaizen is a Japanese philosophy centered around incremental growth, and it begins with evaluating your habits.
The best way to reach your big goals is to start with such a small step that the difference is barely noticeable.
Track your progress with your habits by reviewing them regularly.
If you want to change your habits for the better, this book is for you.
---
The Origins Of Political Order by Francis Fukuyama
1-Sentence-Summary: The Origins of Political Order emphasizes how the historical development of political systems worldwide can be traced back to the natural inclination of humans to favor blood relationships.
Top 3 Lessons:
We are naturally prone to share more with our closest relatives, in descending order.
States are ever-changing social structures that need to adapt constantly, and if they fail to do so they will inevitably decay.
The lasting sociopolitical structures are the ones that balance the state-people relationship.
If you want to know how political systems originated, this book is for you.
---
Global Content Marketing by Pam Didner
1-Sentence-Summary: Global Content Marketing is a guide for creating meaningful content and efficient digital strategies in today's online environment.
Top 3 Lessons:
There is a magic formula that you can follow to get closer to your marketing objectives: the four Ps.
Communication is crucial for a homogenous team and a successful business.
Personalized content is one of the most effective ways to keep your customers loyal and engaged.
If you want to learn how to create purposeful content to aid your digital marketing efforts, this book is for you.
---
That'll do it for now, enjoy your weekend!
Happy reading,
-Luke
---
PS: The best way to support Four Minute Books is to get our lifetime deal.
For $40, you'll get early access to all our new titles, 600+ audios to download and keep forever, our entire, 900+ summaries catalog in PDF format, bonus guides, your own customizable library, and much more.
Thank you for supporting Four Minute Books!