Now let's dive into this week's books!
---
Thinking Fast And Slow by Daniel Kahneman
Say what you will, they don't hand out the Nobel prize for economics like it's a slice of pizza. Ergo, when Daniel Kahneman (the first non-economist to win this particular Nobel prize) does something, it's worth paying attention to.
His 2011 book, Thinking Fast And Slow, deals with the two systems in our brain, whose fighting over who's in charge makes us prone to errors and false decisions.
It shows you where you can and can't trust your gut feeling and how to act more mindfully and make better decisions. Click the image below to watch our brand new video summary of it right now!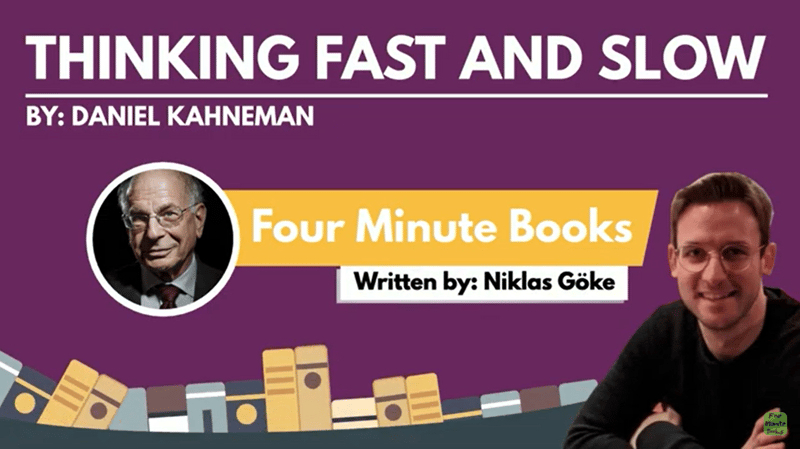 ---
The Art Of Stopping Time by Pedram Shojai
1-Sentence-Summary: The Art of Stopping Time teaches a framework of mindfulness, philosophy, and time-management you can use to achieve Time Prosperity, which is having plenty of time to reach your dreams without overwhelm, tumult, or constriction.
Top 3 Lessons:
Not all time is created equal, its usefulness depends on your energy, mindfulness, and what you're doing.
Think of your time like a garden that you have a limited amount of resources to nurture.
Slow time down by being mindful.
If you want to learn how to "slow down" time so you can do more, this book is for you.
---
1-Sentence-Summary: How To Change by Katy Milkman identifies the stumbling blocks that are in your way of reaching your goals and improving yourself and the research-backed ways to get over them, including how to beat some of the worst productivity and life problems like procrastination, laziness, and much more.
Top 3 Lessons:
Fresh starts are a great time to start changing.
Beat impulsivity and procrastination with a few easy strategies.
Reaching your goals will be easier if you choose your acquaintances wisely.
If you want to get over bad habits like procrastinating, this book is for you.
---
1-Sentence-Summary: How To Fail shows the surprising benefits of going through a difficult time through the experiences of the author, Elizabeth Day, including the failures in her life that she's grateful for and how they've helped her grow, uncovering why we shouldn't be so afraid of failure but instead embrace it.
Top 3 Lessons:
Your twenties are a great time to mess up and learn from your mistakes.
Failing in a relationship can teach you a lot about yourself.
You can be successful and also experience failure in other areas of life.
If you want motivation after failing in something, this book is for you.