"The most wisdom per word of any newsletter on the web."
3-2-1: On growth through challenges, all-or-nothing mindsets, and great art evolving with us
read onJAMESCLEAR.COM | JUNE 3, 2021
Happy 3-2-1 Thursday,
Here are 3 ideas, 2 quotes, and 1 question to consider this week…
​

​
3 Ideas From Me
I.
"There will never be a perfect time to do something that stretches you.
That's true whether you are starting a business, having a child, changing careers, or wrestling with any number of challenges. That's not a license to be reckless and never think things through, but at some point you have to embrace the uncertainty because it is the only path forward.
If you were ready for it, it wouldn't be growth."
---
​II.
"Planning and preparation are useful until they become a form of procrastination.
Is this task enhancing my actions or substituting for them?"
---
III.
"Too often, we fall into an all-or-nothing cycle with our habits.
The problem is not slipping up; the problem is thinking that if you can't do something perfectly, then you shouldn't do it at all."
​

​
​
2 Quotes From Others
I.
Author Virginia Woolf on great art evolving with us:
"There is one peculiarity which real works of art possess in common. At each fresh reading one notices some change in them, as if the sap of life ran in their leaves, and with skies and plants they had the power to alter their shape and colour from season to season. To write down one's impressions of Hamlet as one reads it year after year, would be virtually to record one's own autobiography, for as we know more of life, so Shakespeare comments upon what we know."
Source: Genius and Ink: Virginia Woolf on How to Read ​
---
​II.
Writer Jorge Luis Borges on transforming every experience into a resource:
"A writer — and, I believe, generally all persons — must think that whatever happens to him or her is a resource. All things have been given to us for a purpose, and an artist must feel this more intensely. All that happens to us, including our humiliations, our misfortunes, our embarrassments, all is given to us as raw material, as clay, so that we may shape our art."
Source: Twenty-Four Conversations with Borges: Including a Selection of Poems​
​

​
​
1 Question For You
Do the people around me act the way I wish to act?
​
If you enjoyed that, please share with others.
​Share this newsletter on Twitter, Facebook, LinkedIn, WhatsApp, or via email.
Or, copy and paste the link below:
​
Until next week,
James Clear
​Author of the multi-million-copy bestseller, Atomic Habits​
Creator of the Habit Journal​
​
​
p.s. Reach me on my cell anytime.
​
​
​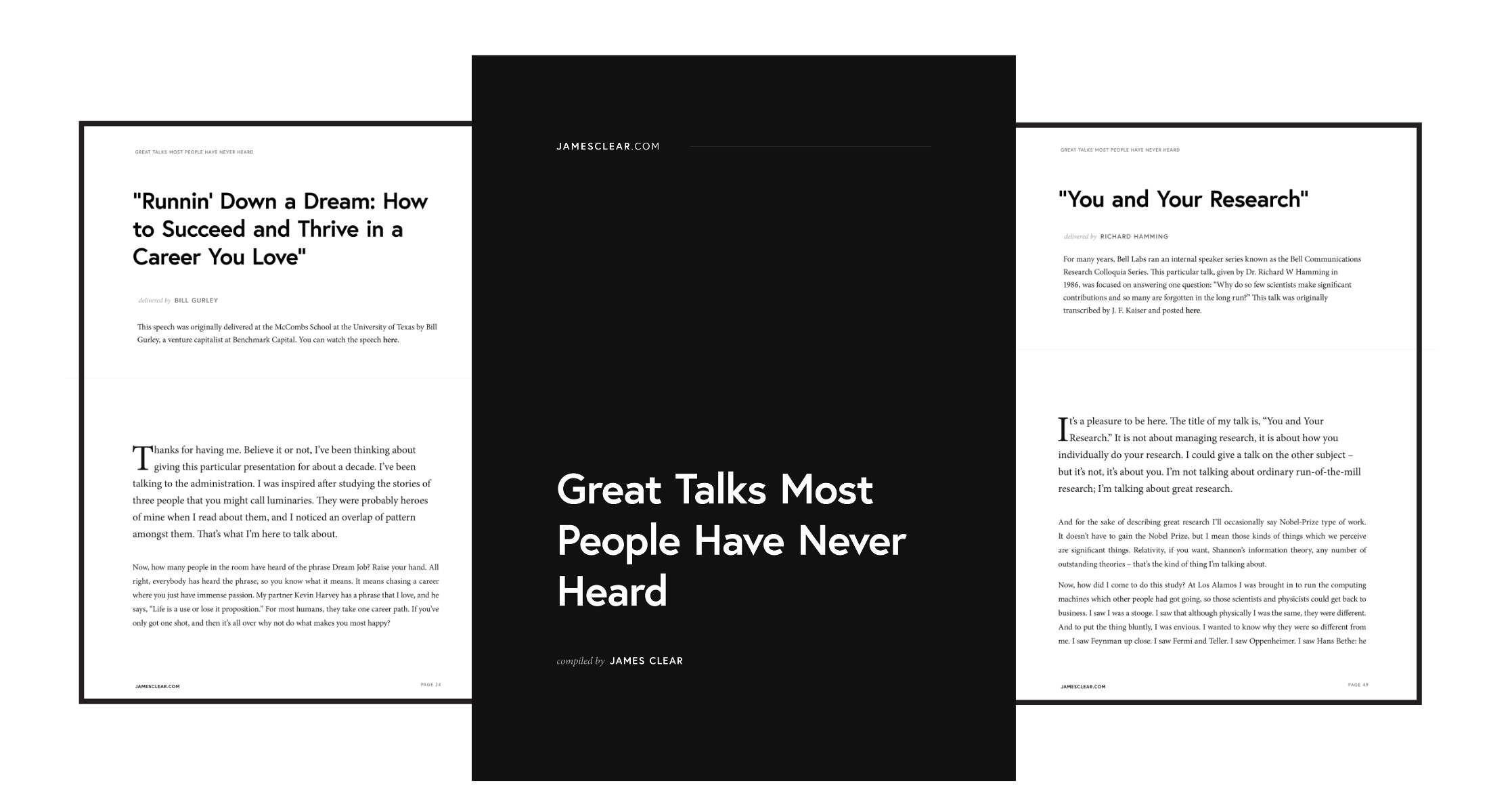 Share 3-2-1 and get something useful.
If you enjoy these messages, please tell a friend about the 3-2-1 Newsletter. And if you do, I'll send you a special bonus.0 OF 3You're just 3 referrals away from unlocking The Great Speeches PDF
For years, I have collected a list of insightful speeches that are not widely known. I've discovered many hidden gems. Recently, I created transcripts for 10 of my favorites and compiled them into a single document titled, "Great Talks Most People Have Never Heard." Each one is filled with useful ideas for life and work.
Here's how to get access to it…
You have a custom referral link (see below). Just copy and paste your referral link into an email, on social media, or however else you'd like to share it. If 3 new people sign up through your link, then you'll automatically get an email with the Great Speeches PDF attached. Thanks for spreading the word.
Your referral link: