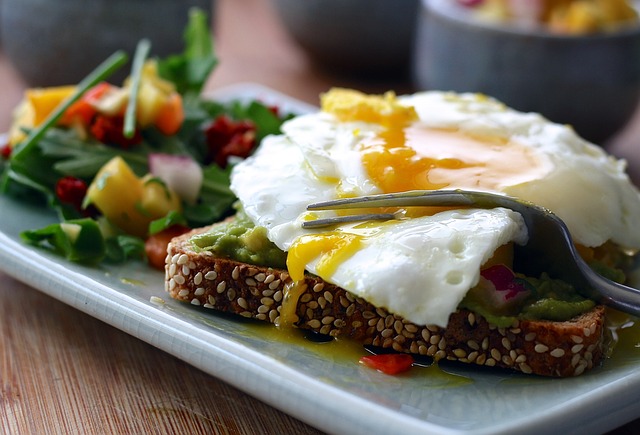 Sunny Side Up Egg and Avocado
Avocado Toast with Sunny Side Egg, now this is MY kind of breakfast egg sandwich and it takes under 5 minutes to make!
AVOCADO TOAST WITH SUNNY SIDE EGG
Made on whole grain toast with mashed avocado, a runny egg and a few dashes of hot sauce – 5 ingredients, 5 minutes to make, it doesn't get better than that!
I'm not much of a breakfast person, most mornings I usually grab a cup of coffee, a hard boiled egg and a piece of fruit, or whip up a smoothie. But lately, I've been obsessed with avocado toast for breakfast, especially when I have avocados in my fridge that need to be used up. It's a simple, healthy breakfast when you need something delicious and fast. I also got Tommy and Karina on board, we all love avocado toast!!
MEAL PREP TIPS FOR AVOCADO TOAST:
To store unused ½ of avocado, wrap tightly with plastic wrap and place in refrigerator. They also sell avocado keepers (affiliate link) that claim to keep them fresher longer.
Leave the pit in and get the wrap as close to the surface of the fruit as possible.
If browning occurs, gently scrape the exposed flesh with a butter knife and voila, beautiful green avocado lies within!
If you're in a hurry, you can swap a pre-boiled egg for the sunny side up one.
AVOCADO TOAST VARIATIONS
No Eggs – don't like eggs, leave them out!
Salmon – add smoked salmon for added protein.
Poached Eggs – swap the sunny side egg for poached and top with microgreens.
Scrambled Eggs – swap the sunny side egg for scrambled and top with some salsa.
Hard Boiled Eggs – swap the sunny side egg for hard boiled eggs and add tomato and scallions.
Add "Everything but the bagel" seasoning on top.
Guacamole – Swap the avocado for guacamole (I do this when I have leftover) for a Mexican avocado toast.
Sliced – Don't like your avocado mashed, slice it!
PIN IT
MORE WAYS TO MAKE AVOCADO TOAST: