Daily Capsule | 14th November
Hello,
Today marks a very sad day for the Indian startup ecosystem. Flipkart Co-founder Binny Bansal resigned from his position as group CEO and made an announcement in an email to all employees. Over the last decade, Binny and Sachin Bansal have served as an inspiration to so many budding entrepreneurs across the country, and perhaps, even abroad.
This marks the exit of both the founders of the ecommerce giant – two people whose contribution to the Indian startup ecosystem and ecommerce industry is unparalleled and cannot be forgotten. Who would have thought that the two founders would have left the company within months of each other?
While uncertainties are plaguing us all about the future of the company, Walmart, which acquired Flipkart this year, expressed confidence in the leadership structure and says the transition was in the works for some time.
Cheers,
Team YourStory
---
Stories you shouldn't miss
Binny Bansal, Flipkart Co-founder and group CEO, has resigned with immediate effect following allegations of personal misconduct, Walmart said in a statement. The news comes just six months after Walmart acquired a majority stake in the online retailer. Bansal reportedly holds 5-6 percent in the new joint entity and will continue to serve as a board member.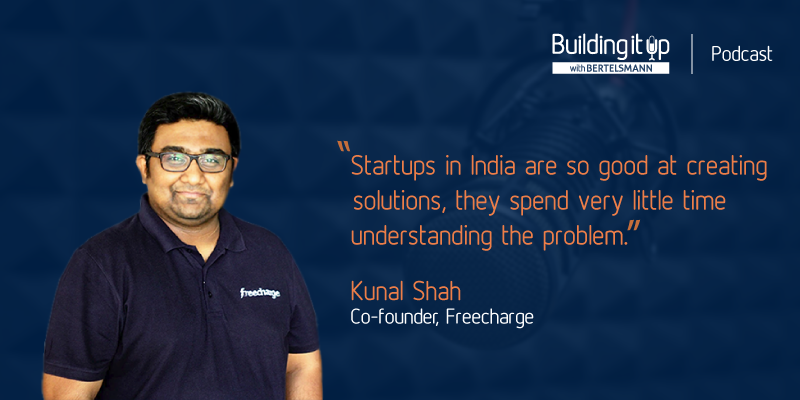 Over 90% of Indian startups fail within 5 years of inception. What mistakes are these startups making? Kunal Shah, talks about the one curse that's stopping Indian startups from becoming successful, on #BuildingItUp with Bertelsmann.
Binny wrote an email to all Flipkart employees, explaining how "certain personal events" may become a distraction for the company and team. What happens to Flipkart leadership after co-founder Binny Bansal's abrupt resignation? Flipkart CEO Kalyan Krishnamurthy wrote in an email to Flipkart employees, "I wanted to personally let you know that there will be no changes in our operating processes, or to the mission of the company as a result of this news. I am very confident in the ability of the Flipkart, Myntra and Jabong teams to keep guiding us to greater successes."
This week, we feature the journey of Anand Deshpande, Founder and Managing Director of Persistent Systems, and chart his 28-year-old path to make the technology services company a $600 million enterprise. Over the last 28 years that his company has been in existence, 56-year-old Anand says his role has constantly evolved, something that has kept him on his toes. And the excitement, he adds, is unparalleled.
Tata Trusts and Social Alpha has launched a fellowship programme, the Social Alpha Entrepreneurs for Impact (E4i) Programme with an aim to bring technology innovators and entrepreneurship oriented individuals onto a common platform to foster startups in the social sector. The E4i programme will be spread over a year to enable an ecosystem, which can bring out innovations in the laboratory into the marketplace.
The man who created the magical world of Marvel Comics – one of the longest-running franchises in books and entertainment – is no more. Stan Lee, also known as the 'real-life superhero' was 95, and he breathed his last on Monday. He was the brain behind iconic characters such as Spider-Man, X-Men, Captain America, Deadpool, Thor, Iron Man, Black Panther, Incredible Hulk, etc.
CheckMate, a startup founded by Vishal Agarwal with a presence in the US and a technology team based in India has received Series A funding of $3 million from Tiger Global. This funding marks the return of the investment firm to India as it had seen a slowdown in the recent past. The latest funding is the first time that the two-and-half-year-old startup has raised outside money for its business, according to media reports.
Click Here to unsubscribe from this newsletter.