Sometimes, I have dilemma.  Mostly the decision is about People who come in my life, stay there, get benefitted, some reciptrocate, some don't. Some cost me money, some Time, Some deep efforts and some simply gifts and for some I give all that I have.
Then come some moments, decisive when the masks are unpeeled, they fall off, the gloves come off, bad behaviour, attitude, insults start hurting and I realise the my Trust was ill-placed. I have made a huge error of judgement.
In such times, I use Jay's Tantra. The simplest way is to consult and seek advice from the Omnipotent, Omniscient, Omnipotent  – The Om -HIMSELF.   I go to BhagvadGita and choose a random shloka. I also go to a Bible someone gifted me years ago.  I take a Verse for Bible.
I then decipher meaning as per my understanding and draw inferences.  These are not regular moments, they happen when I have a deep dilemma.  It is never a Conscience issue though as Conscientious decisions come to me quick and fast – No problem there.
Today's Dilemma was solved by these two and I urge readers to try this if you come across such difficult moments in life.
This is what came out as Random Verse from Bible:
Proverbs 23:9
Passage: 
Do not speak to fools,
for they will scorn your prudent words.
This is what came as Random Shloka from Gita
Srimad Bhagavad Gita

Chapter 2 Sloka 70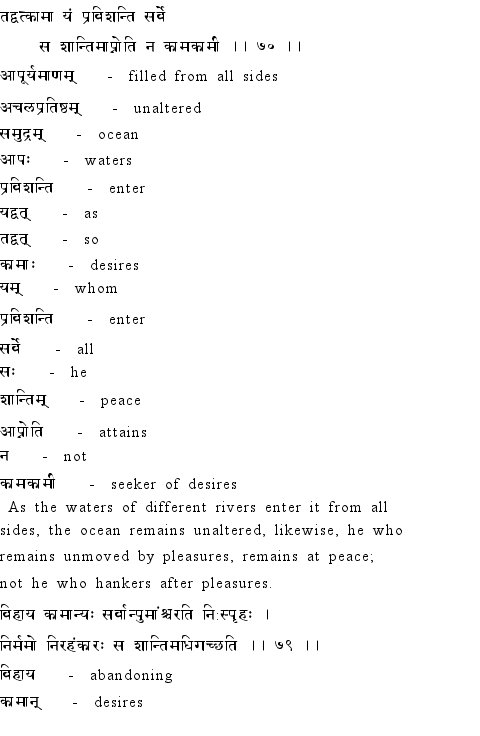 Got it!
Yes. I got my answer to the dilemma. That's Jay's Tantra.  Use it sparingly and only in dire situations with full belief and trust in the Almighty. Amen!