10 Strangest US Roadside Attractions
Roadside attractions have been a staple of American culture since the first mile of Route 66 was laid down. Fodder for postcards, novelty-seekers, and Instagram shots, these various noteworthy stopping points are often quite unique and bizarre.
While classics such as the World's Largest Ball of Twine seem weird enough, an in-depth look reveals much stranger sights. Here are ten of the strangest US roadside attractions. (For those curious, the ball of twine is in Cawker City, Kansas.)
10Unclaimed Baggage Center
Alabama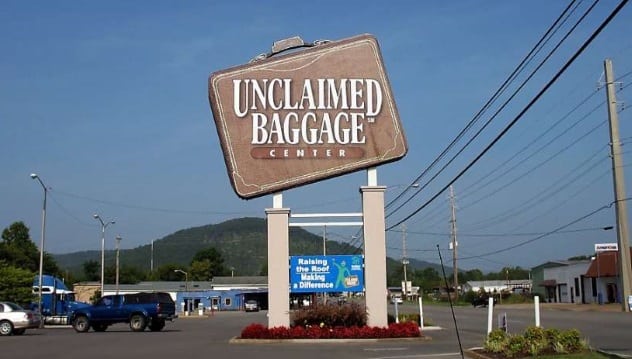 Born from the mind of a man named Doyle Owens in 1970, Unclaimed Baggage Center (UCB) is a secondhand store with a unique supply chain: US airline companies.[1] As of today, it is the only store in the country which sells lost luggage. The size of a city block, UCB has forged alliances with most major airlines, not only selling lost luggage but also random carry-on items which get left behind.
Originally sold on card tables in a rented house in Washington, DC, the nearly 7,000 new daily items were moved to their current home of Scottsboro, Alabama, by Bryan Owens in 1995. Thanks to the exclusive contracts signed with the major airlines of the US, UCB boasts more than a million visitors per year. In addition to their storefront, they also have a museum of oddities and curios, items which are not for sale. (An African djembe is one of the more unique exhibits.)
9Lucy The Margate Elephant
New Jersey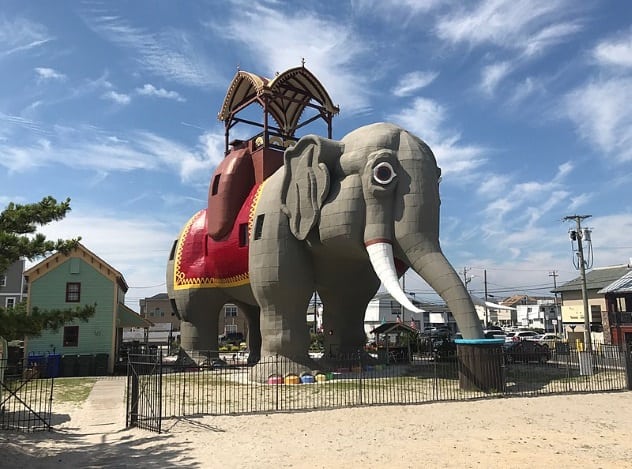 Located just a short distance south of Atlantic City, a 20-meter (65 ft) building rises from the Margate sands. This isn't your ordinary building, though; it's in the shape of a large elephant, and its name is Lucy.[2] Since its construction in 1881, news of a giant elephant appearing to sailors began to trickle into various parts of the East Coast. Determined to uncover the truth, visitors began to flock to Absecon Island, shocked when they realized it was no mirage.
The brainchild of a man named James V. Lafferty, Jr., Lucy was eventually patented in 1882, with Lafferty receiving one for the invention of a "building in the form of an animal." Later owners of the building eventually began guided tours, with such visiting luminaries as President Woodrow Wilson. At various times through its history, Lucy has been a summer home for an English doctor and his family, a tavern (which nearly resulted in it burning to the ground), and a tourist attraction, which it remains to this day.
8Wall Drug
South Dakota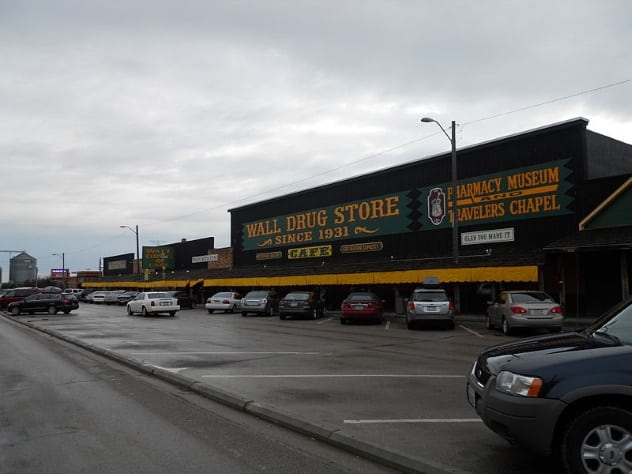 Perhaps the most famous tourist trap in the entire country, Wall Drug got its start in 1931 on the edge of the South Dakota Badlands.[3] Using his last $3,000, Ted Hustead brought his wife and child to the small town of Wall and purchased a small pharmacy. Business was tough, and they struggled to make ends meet for years while the Great Depression rolled on.
However, to this day, their biggest draw might still be one of their first: free water. Hustead's wife, Dorothy, had the idea come to her while she tried to sleep one hot July afternoon. Due to her idea, and a number of ingeniously placed billboards, people flocked to the store, filling up on ice water as well as the occasional ice cream cone. Today, more than two million people visit each year, bringing more than $10 million with them.
7Nicolas Cage's Tomb
Louisiana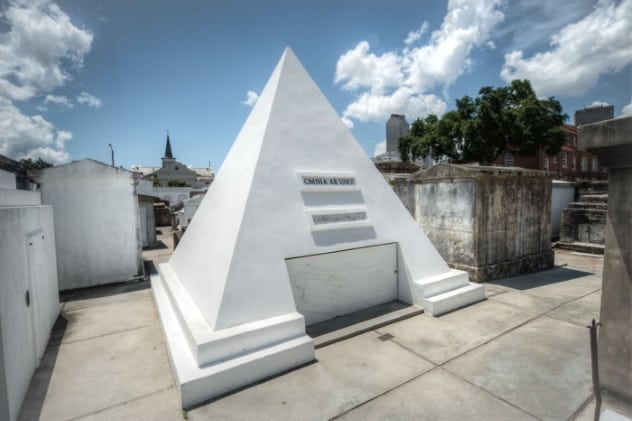 In a move which seems to solidify his eccentric reputation, Nicolas Cage purchased a tomb in an infamous New Orleans graveyard in 2010. Thanks to its below-sea-level elevation and numerous outbreaks of disease throughout its history, the city has strict rules about where cemeteries can be located, unless they're aboveground. Those rules are what led Cage to purchase a 2.7-meter-tall (9 ft) stone pyramid in the St. Louis Cemetery No. 1.
However, the exact reasoning behind the tomb's purchase has been kept secret, though some locals are angry he was able to even get into the cemetery in the first place, going so far as to accuse the actor of knocking down much older burials in order to make room for the pyramid tomb.[4] The first New Orleans graveyard with aboveground burials, St. Louis Cemetery No. 1 is also the final resting place of Marie Laveau, the infamous voodooqueen of New Orleans.
6Airstream Ranch
Florida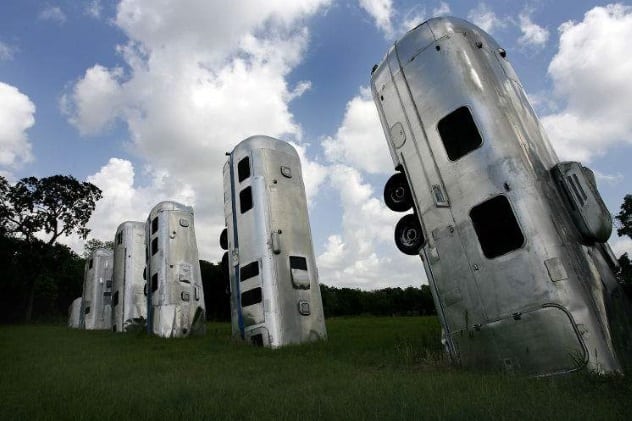 An homage to Cadillac Ranch, an art installation using junked Cadillac automobiles, Airstream Ranch was located not far from Tampa, Florida, and used old RVs as its medium.[5] It was the pet project of Frank Bates, a man who, coincidentally, happens to run an RV dealership nearby. Controversial for much of its existence (such is the life of modern art), state courts reversed local orders to tear it down after Bates fought for nearly two years.
Created in 2007 to celebrate the 75th anniversary of the Airstream company, the ranch was originally intended to be built using brand-new RVs, but Bates ended up deciding to get one from every decade of the company's existence (though he only managed five decades' worth). Bates had hoped to add to the ranch, envisioning a future where his installation would have become a park, as well as a home for weddings. In the end, however, Airstream Ranch was torn down to make room for a new Airstream dealership in 2017.
Another roadside attraction reminiscent of Airstream Ranch is Carhenge, located in Alliance, Nebraska. It's exactly what it sounds like: Stonehenge, made of cars.
5Cross Island Chapel
New York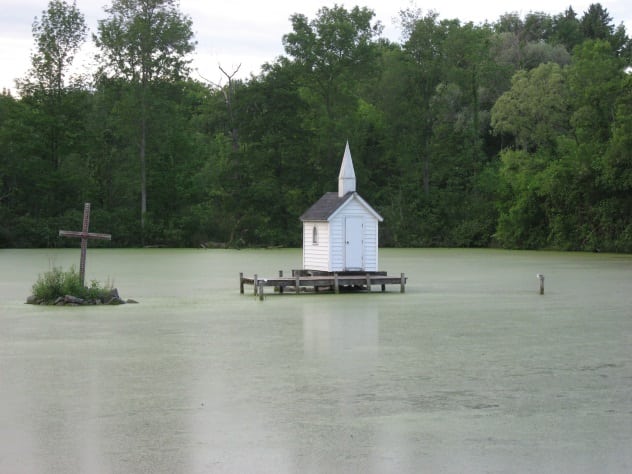 Otherwise known as The World's Smallest Church, the Cross Island Chapel was built in 1989 in the small town of Oneida, New York. In addition to having been certified by Guinness World Records, it also sits on a small dock in the middle of a pond. Only big enough for three standing people (or two seated), the church has nevertheless served as the location for a number of weddings. On one such occasion, wedding guests had to anchor their boats nearby.
Though it lost its title of World's Smallest Church only a few months after its certification (a Swiss church holds the record), the Cross Island Chapel still attracts its fair share of visitors, most of whom come to pray or just take a look.[6] Built to honor God, the building no longer sits on "Cross Island," as the water level has risen, forcing a dock to be built to house the 2.7-square-meter (28.7 ft2) chapel.
4The Hobo Museum
Iowa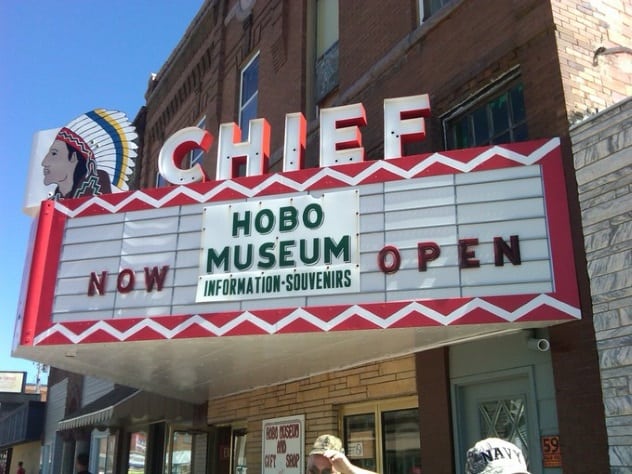 Located in Britt, Iowa, the home of the National Hobo Convention, an annual event which began in 1900, is the Hobo Museum, a building dedicated to the memory of hobos and their history. Housed in an old theater, the museumbegan its life with nothing more than a single box of random items. Today, the building is full, and exhibits extolling the origins and virtues of the hobo lifestyle are abundant. (To be clear, a hobo is a traveling migrant worker, whereas a tramp is a traveler who avoids work. A bum neither works nor travels.)
In 2008, students of various classes at nearby Iowa State University began work on getting the building onto the National Registry of Historic Places, as well as plans to remodel/restore the former glory of the theater.[7] Other sites throughout the city honor hobos, such as the Hobo Jungle and the Hobo Cemetery, a section of a larger graveyard reserved specifically for hobos.
3Ben & Jerry's Flavor Graveyard
Vermont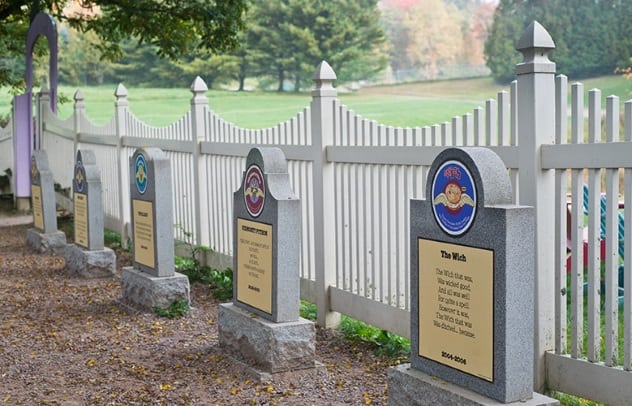 Have you ever wondered what happens to discontinued ice creams, such as Festivus or Dublin Mudslide? Fear not, for they have gone to a better place: the Ben & Jerry's Flavor Graveyard. A tongue-in-cheek place for a tongue-in-cheek company, the graveyard is not only a page on their website but a physical place, located at their factory in Waterbury, Vermont.[8]
Originally opened in 1997, the graveyard only consisted of four flavors, with many more added over the years (35 at last count). Most of the graves are empty, with the exception being What A Cluster, for which they held an actual funeral. (Whether or not the pint of ice cream actually made it underground is anybody's guess.) While it isn't the most popular attraction on this list, Sean Greenwood, Ben & Jerry's head of publicity, says people do come to pay their respects to their favorite discontinued flavors, going so far as to leave flowers near the elaborate granite headstones erected there.
2The Octopus Tree
Oregon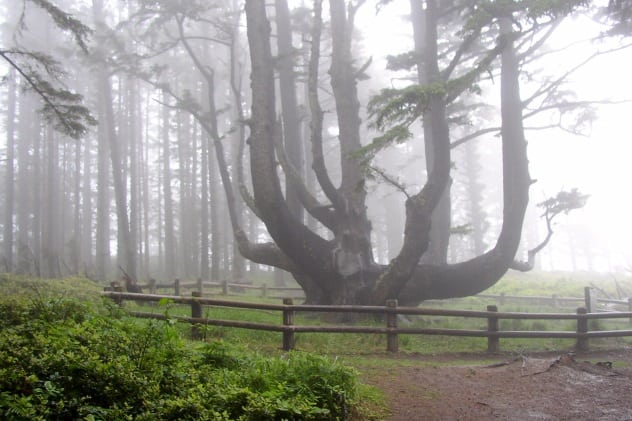 Bearing no relation to the mythical Pacific Northwest Tree Octopus, the Octopus Tree of Oregon is an enormous spruce tree, notable for its branches, which resemble the tentacles of an octopus. Believed to be the largest Sitka spruce in the state, debate continues on the story of its origins, with Native American activity being the most likely.[9] Coastal tribes, such as the Tillamook tribe, were said to shape the trees as part of their ceremonial rites.
The idea behind the Native American theory is that the tree was used to hold cedar canoes, as well as other objects of ritual importance. As far as the Octopus Tree goes, it has been estimated to be hundreds of years old and has often gone by the name "The Council Tree," as it was said that elders also congregated at it in order to make decisions.
1World's Largest Collection Of World's Smallest Versions Of World's Largest Things
Kansas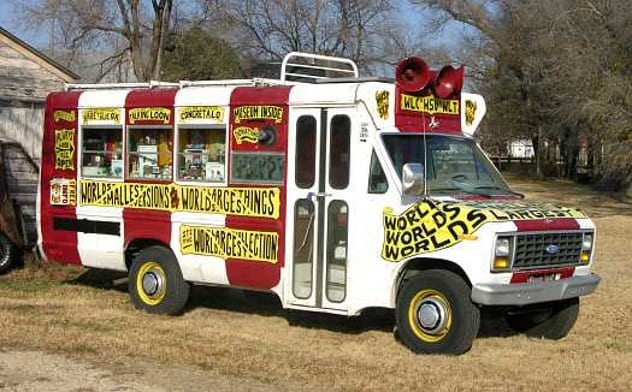 This one is going to take a little explaining. Intrigued by the great American pastime of creating the largest versions of things, artist Erika Nelson decided to riff on that idea. What sprung from her thought was a traveling attraction containing miniature replicas of said things. Extensive research on each and every exhibit is performed before construction, with precise measurements done on the originals.[10]
Appropriate materials are used whenever possible; for example, the World's Smallest Version of the World's Largest Ball of Rubber Bands was made using miniature rubber bands. In addition, a photo is taken of each exhibit sat in front of its original. While it is normally on the road, and best seen there, when the attraction is not traveling, it calls Lucas, Kansas, its home.