While I claim to be a Skeptic, I sometimes trust these cards which can be drawn online like Tarot Carot cards from the various Apps.
I have indulged a lot in the early 80's in Astrology, Palmistry, Astro-Palmistry, Face Reading, body language, Gypsy Thumb reading, Hast Sanjivani etc. and I had reached a very high degree of accuracy in predictions till two things happened.
a. In 1980 I got married and two very elderly grand old people in 90's asked me to predict their death.  It is taboo but under influence of liquor and their love and pressure, I succumbed.
b. I met a Saint, an year later who similarly asked me about his STAGE / SPIRITUAL STATE and how many more rebirths he will have and again a Taboo – I did.
The first two predictions came true.  The saint warned me that my Vidya – Wisdom and the Blessings to predict will vanish as I have already done three things taboo for astrologers.  It did happen. It was his self-fulfilling prophecy.  I lost touch with subject and stopped trusting numerology, and all other forms of occult predictions, planchette et al.
Recently I came across this App and I now have 12 of them.  I somehow find that their daily one card predictions about the STATE OF MY MIND, MY EMOTION ARE GENERALLY RIGHT.
No, this is not about promoting the Apps or I  am not a paid blogger or anything. I am just sharing what happened this morning.
I drew this card.
The "Angelic Energy" card:
(This card depicts the angelic energy related to your question.)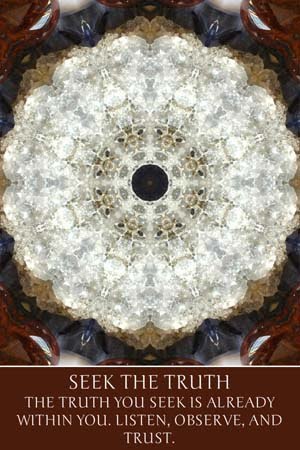 [ SEEK THE TRUTH ]
MESSAGE: The truth you seek is already within you. Listen, observe, and trust.
Everything you need to know is already within you. You were born in truth and with that, Universal knowledge is in each of your body's cells. You pulled this card today because your situation is testing your inner knowledge. Stop. Be still. Breathe. Hold this situation in your abdomen and see how your body reacts. If it doesn't feel right, then it isn't. If you feel peaceful and content, it is truth-based and positive for you to act upon. Don't discount your own feelings and don't deny your own truth. You know what is true.
ADDITIONAL MEANINGS:
This person is not trustworthy
Something is not being disclosed to you
Listen to what others are saying
See from another's perspective
Watch how others reaction
Live in the moment
Do not rush any decisions
CRYSTALS: aquamarine, celestite, iolite, pietersite, and blue tiger eye
I was on the horns of a dilemma and it is painful to your Ass when you sit on the Horns even if they are small ones.  To decide I never needed any external help of affirmation but as the decision was pending for a long time and I was going thru mental trauma of going back and forth I decided to give this a try.
I broke the relation, association.
Let us see whether I was right or my decision support App above was right. Time will tell. I beiieve in one thing though and that is the intution, sixth sense or the gut feeling that we get in the bottom of stomach sometimes that tells us and an inner voice is wanting to SPEAK OUT.  I always let it speak out.
---